Tackling frizzy hair is no easy feat, especially if you have naturally wavy and curly hair like me that rough up at the slightest hint of humidity. As much as I love smooth frizz-free strands, the idea ofclamping my locks between those scorching metal plates during the dog days of summer makes me cringe!
So, I called in the help of an expert stylist, Ricky Pennisi, king of curly hair and founder of RI CI – a line of products created to hydrate curls and combat frizz. If you also want to rock your natural waves and curls, check out these tried and true tips to fight frizzy hair and unleash your true texture this summer!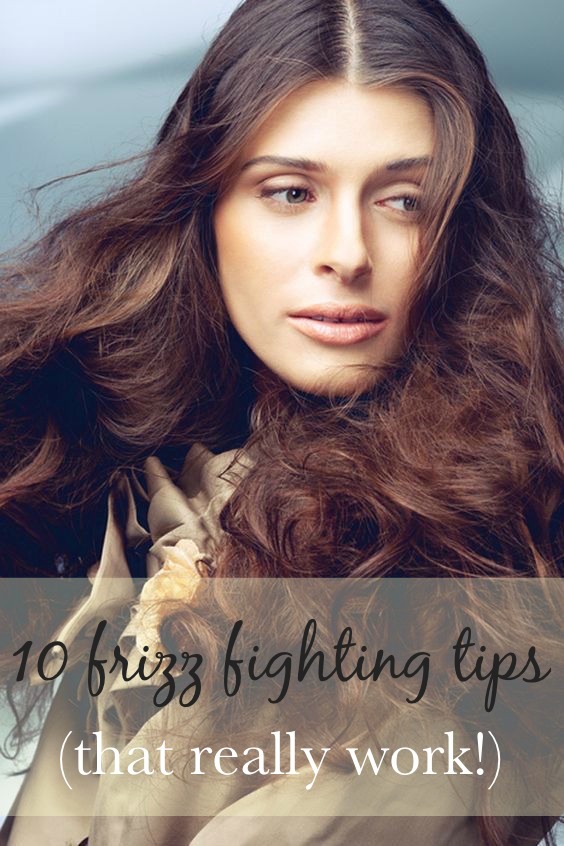 1. Keeping the frizz at bay starts with the right suds. Many shampoos that contain sodium lauryl sulfate can strip the hair of its natural oils leaving it dry and frizzy. If your hair is prone to poofing, use a lightweight and moisturizing sulfate-free shampoo & conditioner to give your hair the hydration it needs. For fine hair, cleanse every other day; those with thick strands can usually go three or more days without a wash. I love Palmer's Shea Formula Moisture Repair Shampoo ($10) which is a great drugstore sulfate-free shampoo that's gentle and hydrating!
2. Instead of drying your hair with a regular towel post-shower, swap it for a soft cotton T-shirt that will absorb excess water but prevent your hair from frizzing. Unlike typical towel material, cotton t-shirts cause much less friction which equals less frizz (along with less breakage). Another great option is using a soft microfiber towel (like the Turbie Twist Hair Towel ) that soaks up water quickly and offers the same smoothing benefits while keeping hair completely off your face and neck.
3. Eliminate the heat as much as possible! I know it's easier said than done but excessive heat styling (whether with a blow dryer or hot iron) can give you a bad case of the frizzies, even if you're using a heat-protective spray. Whenever you can, air dry your hair instead of blow drying (much easier to do in these hot summer months) If you must blow dry, set it to a medium setting and use a diffuser. It might take a little longer, but it's better for your hair.
4. Whether you air dry or blowout, don't skip a leave-in smoothing treatment…it's your first defense against the frizz! While your hair is still wet, towel dry and apply a moisture-locking dry oil or serum, like my favorite Dove Quench Absolute Crème Serum , from midshaft down to your ends. And if you are planning to spend the weekend soaking up the sunshine by the ocean or pool, just pop a detangler solution like TIGI Bed Head Beach Freak Moisturizing Spray to your beach bag to avoid dried out, tangled tresses.
5. Always apply your styling products immediately after washing your hair, while your hair is still damp (not dripping wet though). Once hair starts to dry without products, frizz begins to set in. Dry hair is most prone to frizz. One ingredient you should avoid? Alcohol. Styling products high in alcohol can suck up moisture, leaving strands crunchy.
6. When blow-drying, alternate between hot & cold air and finish with a cold shot blast to prevent frizz. The heat loosens the hair follicle, while the cold air locks in the cuticle and shine.
7.When your hair is drying, resist the urge to run your fingers through your locks. Keep your hands off as much as possible until your hair is completely dry. Fussing with hair that's curly or naturally wavy often makes them frizzy. Stepping outside with semi-damp hair is also a big no-no…make sure to dry your locks thoroughly before you go!
8. Although hairspray isn't a foolproof frizz-tamer, it definitely gives you a fighting chance when it comes to battling humidity. The trick is not just spraying it on the surface of your hair, but to also lift up sections of strands and give your locks a little hairspray hold underneath. And if you need a quick fix on-the-go, spritz some alcohol-free hairspray on a kabuki brush (that you won't be using on on face anymore) and comb over unruly hairs. This will keep those annoying flyways in place without disrupting your 'do. Try L'Oréal Paris Advanced Hairstyle LOCK IT Weather Control Hairspray
9. When it's sticky and seriously humid outside, there is no sense in going for super straight, smooth look. Instead, skip washing hair that day so it's slightly dirty. The natural oils keep hair smoother, hydrated and less prone to frizz. To eliminate any excess oil and add a bit of volume + texture, just use a dry shampoo ! Try this one by Herbal Essences .
10. Depending on your hair type, give your hair a weekly boost by using a hot-oil treatment or deep conditioner for 15-20 minutes—it really makes a difference. This is especially useful for dry, damaged hair that needs an extra dose of hydration and smoothing. If you have severe damage, consider leaving the product on overnight—just place a towel on the pillow to prevent a mess. Try Pantene 3 Minute Miracle Smooth & Sleek Deep Conditioner.
More Beauty Ideas & Resources
---
Article source: http://beautytidbits.com/2016/07/fight-frizzy-hair/